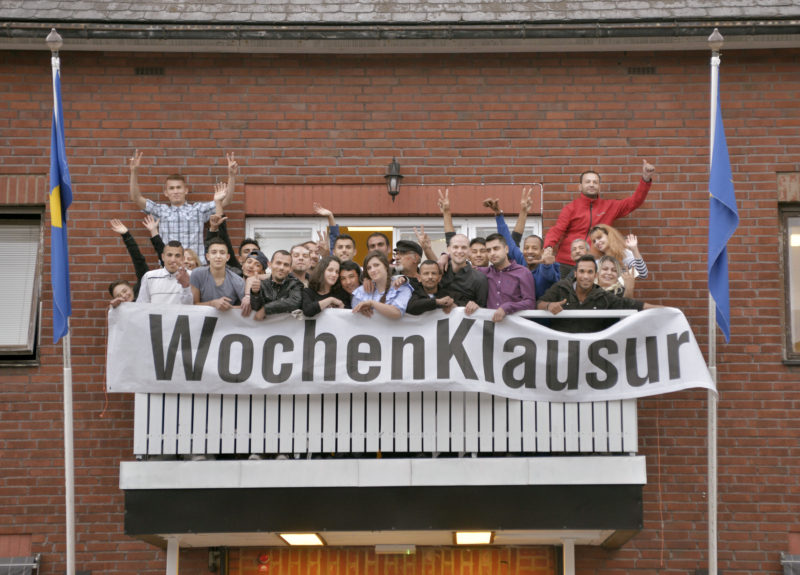 During the spring of 2015, Side-Show invited the Austrian artist collective WochenKlausur to make a new work in Gislaved. They chose to make the work at Smålandsstenar's asylum housing in Gislaved municipality. WochenKlausur works by carrying out social interventions to show that certain living conditions do not have to stay the way they are. Their research-based works do not take the form of an object, but instead consist of a concrete social change; this could be a new local organization, new partnerships or new meeting places.
WochenKlausur gave a public presentation of their project at Jönköpings läns museum in Jönköping on Wednesday the 26th of October 2016, under ART TALKS' headline: When Art becomes Social Intervention/WochenKlausur.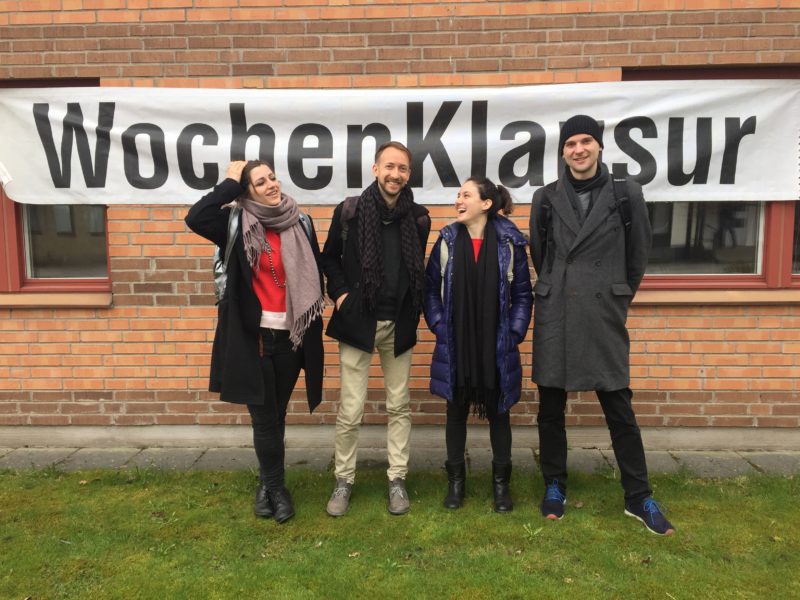 About the project
In June 2016, two of the founding members of WochenKlausur, Martina Reuter and Wolfgang Zinggi travelled to Gislaved for the artist group's first research visit. After more than 20 years of working on similar projects, WochenKlausur has established a clear method where the core members carry out the first stage of research, and then subsequently the decision is made within the group about which members are most suited to carry out the project. Manfred Rainer, Hannah Oellinger, Lena Skrabs and Lisz Hirn carried out the group's second research visit in October 2015. When a full project proposal was established, the final project group was formed and consisted of Manfred Rainer, Denizhan Sezer, Hannah Oellinger and Stefan Wirnsperger.
During their project period, which lasted four weeks in April and May 2016, the group was working at Smålandsstenar's asylum housing in Gislaved municipality. WochenKlausur works by defining a concrete problem that can be solved within the parameters set out by the curators. As it was, the time of their research in 2015 coincided with the time when the situation for recently arrived refugees in Europe was at its most pressing. The Swedish Migration board had to make use of tents for some of the emergency housing, and the situation was described in the press as a crisis in refugee reception. WochenKlausur returned to Vienna with a number of ideas centred on questions of integration. After further research, they chose to focus on a problem that they saw happening with the hurried establishment of asylum housing and emergency accommodation – that these buildings were not adapted for people to live there for longer periods of time, with the processing of asylum applications being so lengthy.
In today's world, an increasing amount of people live in a condition of uncertainty and in temporary accommodation, where they cannot establish, but have to remain waiting for longer periods of time. A large number of new asylum housing has been created in a very short time, in buildings that are not adapted to the different needs of the people who live there. The idea for the project was to, together with the asylum seekers living at Smålandsstenar's asylum housing, define what could be changed in their day-to-day environment and with a shared effort transform the old hotel into a more accommodating place that could better serve its current purpose and belong to the people who live there. Through this project, WochenKlausur has sought to create a possible break from the powerlessness that the waiting for the processing of their asylum application entails, and to create the basis for an increased sense of ownership, participation and control for the residents' in their current situation, as well as establishing more contacts for them within the local environment.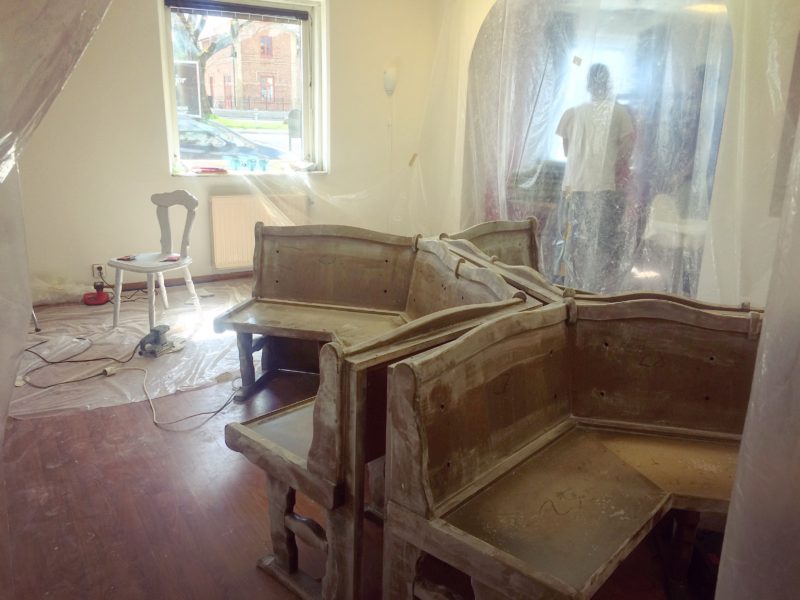 As soon as the different measures were established, WochenKlausur made contact with local businesses to ask if they would make contributions of building materials. The purpose of this was to through gifts establish a local engagement and possibly a longer collaboration with the asylum seekers. The response was very positive and not only building materials but also paint, fabric, plants and garden material was donated.
The residents have contributed with their knowledge and different skills: after a discussion about pattern and motifs, three resident tailors have made new flags for the front of the building and reupholstered all the sofas and chairs. Everyone who wanted could take part in the painting, scraping, sanding, laying of a new floor and the construction of a new outdoor seating area made from recycled pallets. An elderly couple with green fingers took care of the sowing and planting in the outdoor area, together with a local resident form Smålandsstenar, Birgitta, a former journalist who will continue to stop by.
In mid-May, WochenKlausur's work at Smålandsstenar was completed, and this was celebrated with an Open House event for the general public. The response was above all expectations: lots of curious and interested people stopped by throughout the day to witness the great changes and to meet the residents, the staff and the artists.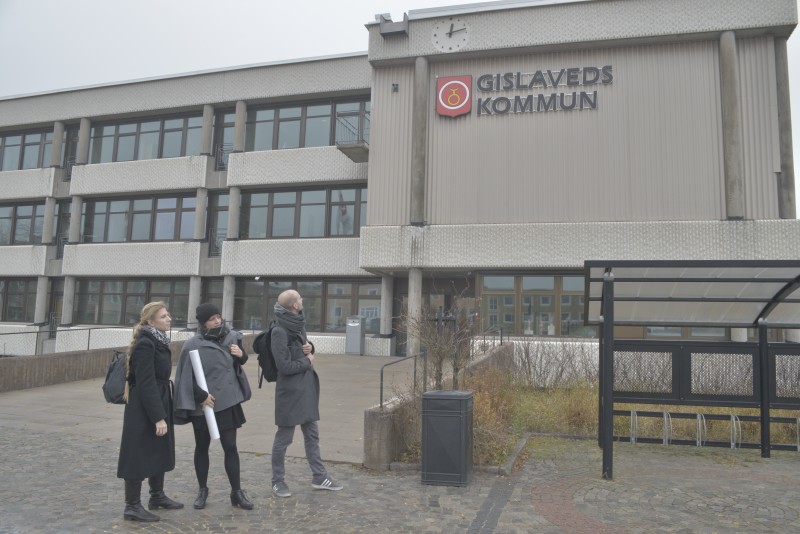 More about WochenKlausur
On invitation from different institutions, WochenKlausur develops concrete proposals aimed at small, but nevertheless effective improvements to sociopolitical deficiencies. Proceeding even further and invariably translating these proposals into action, artistic creativity is no longer seen as a formal act but as an intervention into society. WochenKlausur has realized 39 projects since 1993.
Examples:
Vienna (A) | Secession | 1993 | 11 weeks  | Medical Care for Homeless | The first project succeeded in making medical care available to homeless people. Since then a mobile clinic provides more than 700 treatments monthly, free of charge for the patients.
Salzburg (A) | 1996 | Salzburger Kunstverein | 8 weeks | Improving Conditions in Deportation Detention | WochenKlausur established a coordinating agency that provides social and legal assistance to people without papers who were inmates at the Salzburg Police Detention Center threatened with deportation.
Fukuoka (J) | Museum City Project | 1999/2000 | 12 weeks | Agency for Project-based Teaching | In order to support the practical aspects of studying, a non- profit organization that offers a wide range of "learning-by-doing" projects to the schools of Kyushu was founded and is still active.
Limerick (IRL) | EV+A and Daghdha Dance Company | 2006 | 4 weeks | A Cinema curated by Immigrants | WochenKlausur initiated the so called "Belltable Open", a free cinema program curated by the migrant communities and irish minorities like living in Limerick.
Kivalina (USA) | Alaska Design Forum | 2012 | 12 weeks | Problem Solving through Networking| The inhabitants of Alaska's island of Kivalina live endangered by erosion caused by climate change and without running water or waste disposal. To address these and other issues and implement solutions (eg. an alternative water system) residents were teamed up with experts from all over the world.
Cologne (DE) | Cultural Department Cologne | 2013 | 5 weeks | Neighbourhood Initiative A temporary project office was opened to cooperate with residents to work out improvement proposals for the neighbourhood ́s built and social environment.
Gislaveds Konsthall
Side-Show's partner in Gislaved was Gislaveds Konsthall and curator Jonas Nilsson. Through the Konsthall we made contacts locally and increased our knowledge about the place. The Konsthall served both as an ambassador and resource-center for the project. Gislaveds Konsthall is a meeting place for the visual arts that show works by both Swedish and international contemporary artists. At Gislaveds Konsthall you can also take part in the open art studio for children and adults. Learn more about Gislaveds Konsthall here.

Gislaved is a town with around 10,000 inhabitants, located in Gislaved municipality with about 30 000 inhabitants. The population in Gislaved is on a slow increase, whilst in the municipality a whole it decreases by around 100 people per year. Gislaved's identity has been founded partly on being situated in the Gnosjö region, which has traditionally been characterized by entrepreneurship and small businesses. Manufacturing has greatly influenced the town, and Gislaved's Rubber Factory, established in 1895, was dominant until it closed down in 2002. In Gisalved, a large number of men still work in the rubber-, plastic- and metal industries, whilst many women work in social services and health care.
Culture is highlighted as a major part of Gislaved's profile as the municipality invests in new directions. The brand new Meeting Place Gisle, a culture and activity centre situated near the Gisle Park, is one example of such an investment. The music school has long had a strong presence in Gislaved, and it has around 900 students today. Culture also finds its way into new places, through new independent initiatives. A local artists' association has established studios in the industrial premises that previously belonged to the rubber factory, and they use these at times also as an exhibition space. Gislaved also has a museum of local industry, exhibiting objects from Gislaved's long history of manufacturing.