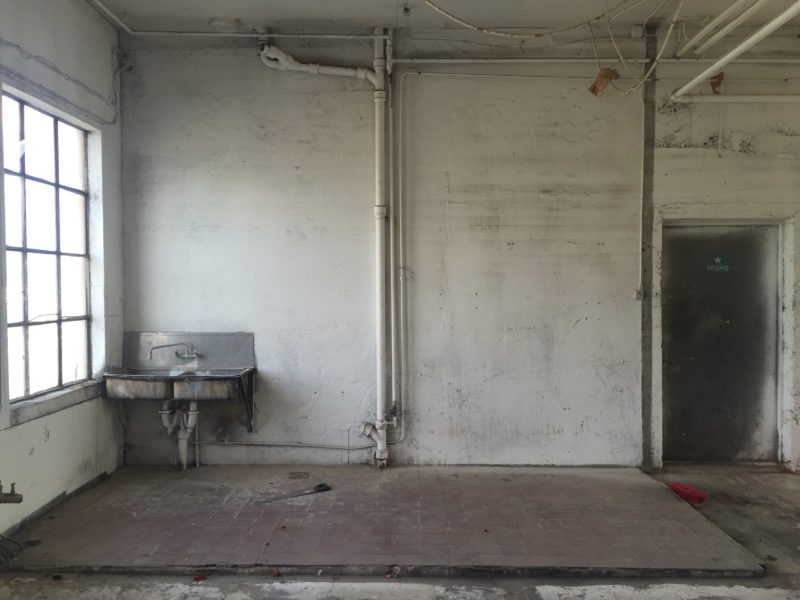 WE ALL START AS STRANGERS

Osynliga Teatern developed a new work for Side-Show in Nässjö, entitled We all start as strangers. The work was shown on the 14th and 15th of October at "Pinnen" in Nässjö.
We all start as strangers was an interactive theatre- and sound experience created especially for Nässjö by Osynliga Teatern, in collaboration with inhabitants of Nässjö  and participating students from Nässjö Kulturskola's theatre group.
The audience was taken on a journey through the old chair factory in Nässjö, a place with echoes of Nässjö's past as a manufacturing town. Today, the building is used for a variety of purposes, but its lack of a current fixed identity offers a potential for creating a different experience. From within the many rooms of the factory the audience would enter a series of different memories, as recalled by themselves or by those they met there.
The performance was a sound- and theatre experience where the audience was given instructions through headphones, as well as direct instructions from the participants.
We all start as strangers opened up the different stories that we all carry with us throughout our lives, and encouraged the audience to take part in experiences from lives that exist alongside their own. We all start as strangers offered different ways of accessing and perceiving one's own memories, to enter one's own stories as well as those of others from a new perspective.
We all start as strangers was performaned 14th and 15th of October, 2016.

At regular intervals between  1 pm and 6 pm, the audience could enter the work one by one, every 5 minutes
The duration of the performance was approx. 25 min
Location: Pinnen, Fabriksgatan 4, Nässjö.
Concept/direction/choreography: OSYNLIGA TEATERN (Tomas Rajnai, Jens Nielsen)
Scenography: Annika Tosti
Participants:  Sonia AlAsni, Felix Martinsson, Mohamad Nouri, and students from Nässjö Kulturskola's theatre group.
We all start as strangers is produced by Side-Show in collaboration with Nässjö Konsthall, with support from the Swedish Arts Council, Region Jönköping County and Nässjö Municipality.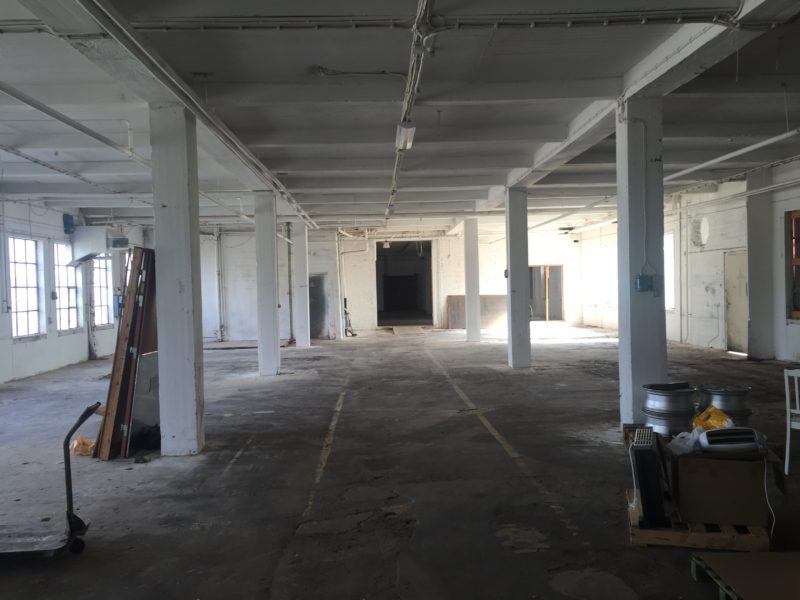 Osynliga Teatern visited Nässjö for the first time in October 2015, and began creating a new work specifically for the town. Above all, they allowed their many meetings with people who live in Nässjö to give shape to the work. In the making of We all start as strangers, Osynliga Teatern collaborated with three co-creators, either born in Nässjö or recently arrived there to make Nässjö their home. These co-creators gave shape to and took part in the experience offered to the visitors.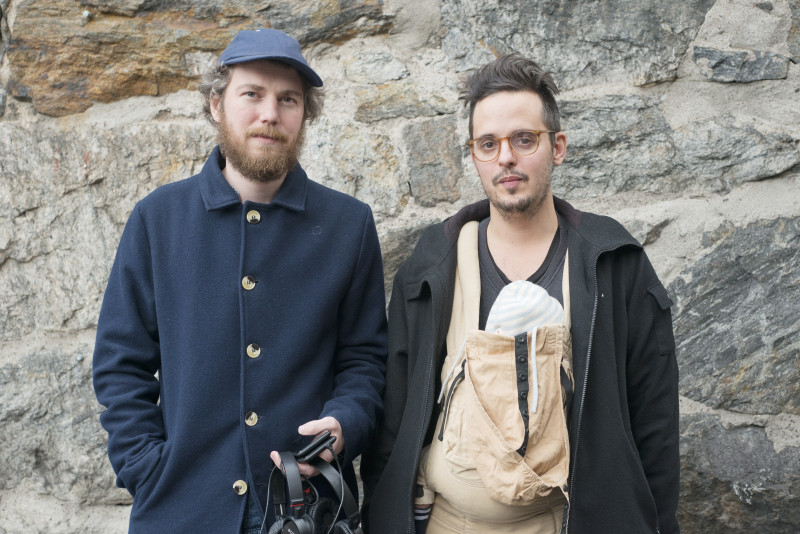 More about Osynliga Teatern
Tomas Rajnai and Jens Nielsen initiated Osynliga Teatern (translated as 'Invisible Theatre') in 2012 whilst attending the radio course at Stockholm Academy of Dramatic Arts. With Osynliga Teatern they produce inter-disciplinary, site-specific exhibitions and artworks. The aspiration is to inspire visitors to create new personal relationships with architecture and their surroundings.
Their works do not only focus on displaying interior/urban spaces and soundscapes, but also aim for visitors to discover impressions from within themselves, encouraging a will to act within a constructed world. The works call on the visitor to step into a world where reality, the perceived and imagination become interconnected.
Osynliga Teatern's works have been shown at Färgfabriken, Stockholm (2015), Weld, Stockholm (2015), Reykjavik Arts Festival (2015), Copenhagen International Theatre Festival/ Metropolis (2015), Royal Dramatic Theatre, Stockholm (2014, 2013 and 2016). They have recently been developing a new project in collaboration with Västmanslands Theatre and Swedish National Radio, and are premiering a new work at the Royal Dramatic Theatre on October 1st 2016.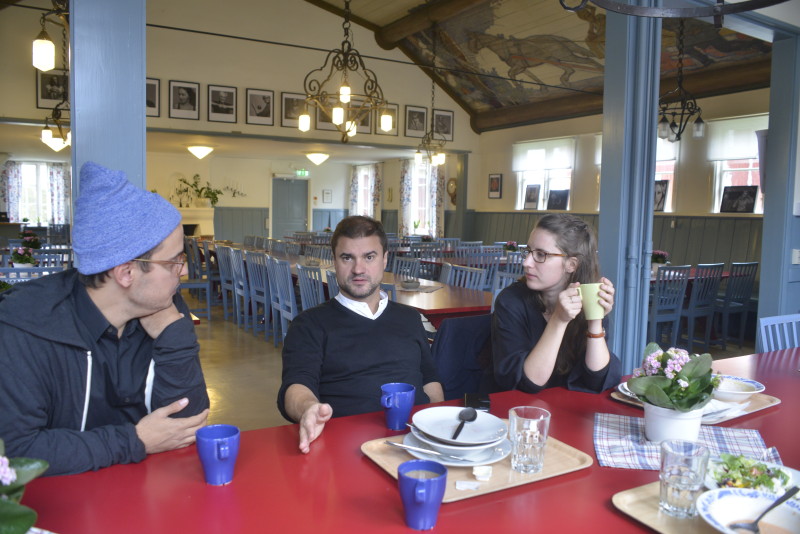 Nässjö Konsthall
Nässjö Konsthall, with Head of Nässjö Konsthall Lennart Alves, was Side-show's partnering organization in Nässjö. They contributed with local knowledge; contacts with local organisations, individuals and local audiences, and provided additional support and resources in the production. Nässjö Konsthall is a municipal art gallery showing exhibitions with both Swedish and international artists. In addition to their exhibtions, they offer a wide range of programs with artist talks, cultural evenings, lectures, concerts and workshops. Find out more about Nässjö Konsthall here.

Nässjö's identity and economy are closely linked to the railway. 1864 was an significant year för Nässjö, when it was decided that the Southern main line would run through the town. Since then it has been known as a major railway junction. In 1892 a fire broke out in northern and western part of Nässjö and 1/3 of the town's buildings were lost. Nässjö is currently the only place in Sweden where railways from six different directions converge with passenger and freight services in all directions. Swedish Railways (SJ) and the Swedish Transport Authority (Trafikverket) are significant employers, together with the area's many wood- and manufacturing industries.  Nässjö municiplaity has more than 30 000 inhabitants, of which about 17 100 live in Nässjö town. In 2015 the population in Nässjö increased by 320 people.
In Nässjö municipality, a large part of the population works within the manufacturing- and extractive industries (20%), in health care (18%) and in trade (12%).  The centre for culture and its administration is contained within one building, Kulturhuset Pigalle, which accommodates a library, an art gallery, a youth club and premises for the performing arts, as well as cultural activities for children and young people.